The Lift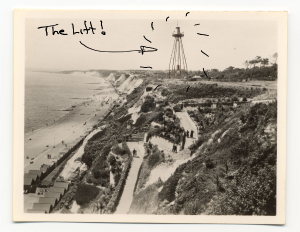 This was the first piece that I made that had what I would describe as the definitive Thomas style. This was the breakthrough piece, when all of the work I had been doing for my degree suddenly made sense.
The lift consists of a short tower standing about 80 to 90 cm high, with a lift running up the centre. The lift is operated by means of a small handle at the lower platform, which when wound raises the lift.
On reaching the top of the tower, a bell is ting-ed to signal the lifts arrival.
There are lamp posts around the platform which will light to illuminate late summer evenings.