Trundlie Head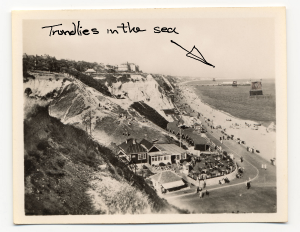 At Trundlie Head you can sup tea whilst watching the elements collide, in perfect safety atop a platform surrounded by nothing but sea. Guarded from the elements by a port-holed screen, and lit by wave-powered lamps, you can spend hours watching the waves crash with awesome power against the cliffs.
Watch as the rocks tumble. Listen as the winds roar. Eat cucumber sandwiches, sold from the shore.
These little battery powered devices have two lampposts that shed about enough light to shell a pistachio nut in.