Well it was time.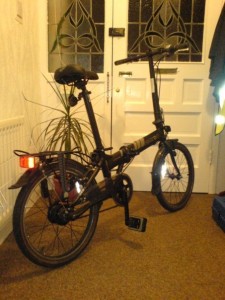 After about 2000 miles on the Dahon Vitesse D7, it was time to get a new bike. The Dahon had it's fair share of problems. The frame split where the seat post frame tube met the cross tube – luckily within warranty, so a new frame was fitted. The wheels on the Dahon where very poor.  On average a spoke broke on the rear wheel every three to four weeks.  Eventually I had the rear wheel rebuilt with new spokes.
Of course there was all the usual stuff with chains wearing and the like… but that is normal for a bike that does 8 miles a day four day's a week. So the Dahon is being retired to 'second bike' for use in emergencies.
So, what about the new bike?
I am now a proud owner of a Birdy Touring bike.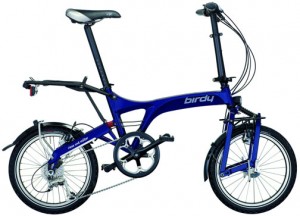 This bike has 24 gears, nicely distributed from very low (hill climbing will be so much easier!) to pretty high. One of the things that I found with the Dahon was that there was not enough high end in the gears, and I was quickly at top speed, with a feeling that I could have gone further. The new bike has by contrast a massive high end in the gears. I topped 42 mph on the flat – with a tail wind!
It has full suspension using a combination of elastomer (rear) and spring/elastomer (front). And on a canal tow-path trip which varied from very uneven brick to muddy pools, it coped well.
It is fully kitted out with mudguards and Pannier racks (front and back).
And of course it folds.